Current Projects
Cue Reactivity & fMRI Study
Cannabis is frequently used and prescribed to alleviate the symptoms of PTSD. However, there is still a lot we do not know about the effects of cannabis on PTSD. We seek to improve understanding of cannabis use on PTSD. We are looking for frequent cannabis users who have experienced a traumatic event in their lifetime. 
These sessions take place in person at the Halifax Infirmary in Downtown Halifax, NS.
To participate in the study, we first need to assess your eligibility to take part. This happens through a telephone screening. Sometime over the next several weeks a member of our team will contact you to schedule this phone call to determine your eligibility.
If you are eligible, you will complete two sessions: 
Session 1: You will complete a series of questionnaires and will be asked to talk about a traumatic experience and a cannabis use-related experience. After telling each story, you will be asked to complete a cognitive task using a computer. This session takes 2 hours minimum but can go as long as 3 hours. 
Session 2: You will be asked to listen to recordings of brief versions of your stories while in an fMRI scanner. This session takes about 2 hours.  
You will be compensated for a total of $210 for your participation on a session-by-session basis ($60+$150).  
If you believe you fit the criteria to take part in the study and would like to participate, please email cue.mood.study@gmail.com – one of our volunteers will set up a telephone screening to assess your eligibility. Thank you."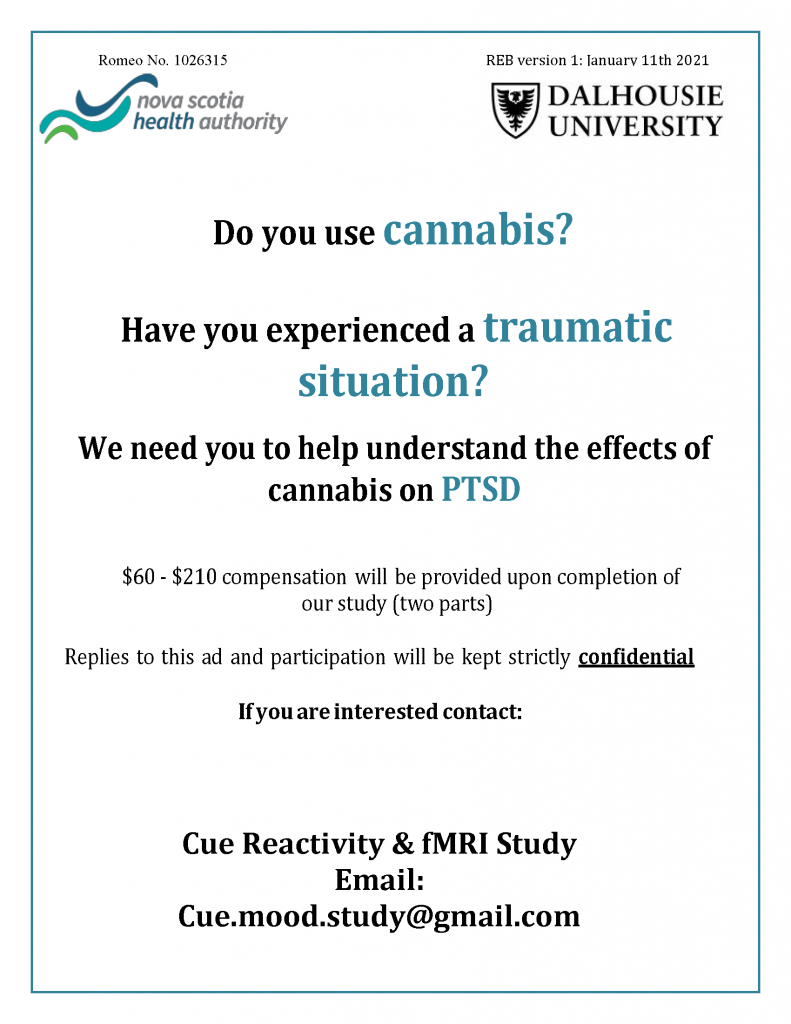 The Canadian Underage Substance use Prevention (CUSP) Trial:
The CUSP Trial is a Pan-Canadian Institute of Health Research (CIHR) funded study to prevent adolescent risk behaviours that can lead to drug and alcohol misuse. The study team is comprised of expert researchers from Ontario, Quebec, British Columbia, and Nova Scotia. For more information check out our website, www.cusptrial.ca. Nine Nova Scotian high schools are set to participate in the CUSP trial, including schools within the Halifax Regional Centre for Education (HRCE), and the Cape Breton Victoria Regional Centre for Education (CB-VRCE).
Aims
1.  To continue to evaluate the long-term effects of the PREVENTURE programme (a school-based, personality-targeted intervention) in delaying the onset of and reducing drug and alcohol use in teens.

 

2.  Compared with previous successful implementations of the PREVENTURE programme, this trial will include prescription drug misuse and vaping (i.e., e-cigarette use) as new outcomes of interest.

3.  This trial will include a programme implementation component, with the goal of identifying the most effective strategies for integrating PREVENTURE into schools in a way that ensures high-quality, self-sustaining and effective delivery of the programme, to the students that need it most.

Ultimately, this study will compare the experiences of more than 12,000 grade-10 students over three years across Canada.
The PreVenture program was developed by a team of Canadian researchers, including Dr. Sherry Stewart. PreVenture is a targeted school-based prevention programme which involves delivering specialized coping skills through brief group workshops (two 90-minute workshops) to adolescents. Check out PreVenture's new website for more information, www.preventure.ca.
—
Univenture: A partnership to address heavy drinking and other substance misuse on Canadian university campuses – Funded by Social Sciences and Humanities Research Council of Canada (SSHRC) Partnership Grant  [Principle Investigator]

This project is a 5-year, multi-site, controlled study involving 1st and 2nd year undergrads at five diverse Canadian university sites (Dalhousie, St. Francis Xavier, Montreal, Manitoba, and British Columbia-Okanagan). We will test a program targeting personality traits linked to substance misuse. An earlier version of this program led to marked reductions in substance use and distress in adolescents. Our objectives are to examine the program's effects on: substance use and distress among emerging adults; uptake of prescription drug use given the opioid crisis; and undergrads' academic success. In parallel, we will assess 2 versions of the program: a face-to-face and an innovative and accessible technology-assisted distance-delivery format, both compared to normal campus services alone.
—
Tests of the social influence hypothesis on drinking motives and drinking behaviour in dating couples – Funded by Social Sciences and Humanities Research Council of Canada (SSHRC) Insight Grant  [Principle Investigator]

 This project brings a novel social psychological perspective to the drinking motives literature by studying the relation of drinking motives to heavy drinking within the context of dating couples and drinking buddies. It also brings a developmental perspective to this literature by examining the origins of drinking motives at the point in the lifespan when individuals engage in their heaviest consumption.
—
Gambling to Relax and Gambling to Forget: Questionnaire and Daily Diary Studies of Subtypes of Coping Motives for Gambling – Funded by the Manitoba Gambling Research Program  [Principle Investigator]

Previous research has shown that gambling to cope with negative emotions is related to excessive gambling and gambling problems.  Two important questions remain to be answered.  First, are gambling to cope with anxiety and gambling to cope with depression distinct dimensions of gambling motivation, and what are the concurrent and predictive relations of each of these types of coping motives to excessive/problem gambling?  Second, do these two types of coping-related gambling motives specifically moderate gambling behavior in response to anxious and sad mood states, respectively?  Our first study will use a longitudinal methodology with 210 community-recruited gamblers to develop and test an expanded Gambling Motives Questionnaire that separates gambling to cope with anxiety from gambling to cope with depression.  Our second study will use a daily diary methodology with 150 community-recruited gamblers to examine the impact of these distinct coping motives on within-person associations between specific negative mood states and gambling behavior.  Both studies will increase understanding of what influences movement and stability in gambling behaviors and increases risk for problem gambling.  Results will clarify the need to refine existing motivation-matched interventions to enhance specificity and identify precise intervention targets for gamblers who gamble to cope with anxiety vs. depression.
—
Exploring marijuana use in veterans recovering from post traumatic stress disorder (PTSD): A cue- reactivity experiment – Funded by Dalhousie Department of Psychiatry Research Fund and the Nova Scotia Health Authority Research Services (NSHARS)  [Principle Investigator]

 Post-traumatic stress disorder (PTSD) is a recognized mental health disorder characterized by distressing symptoms following exposure to a traumatic event. Treatment for PTSD often includes a medical prescription to help manage the distressing symptoms that accompany the disorder. Although it is becoming progressively more common to prescribe marijuana for PTSD, there is little research that supports the claims of its actual efficacy. While some believe its use is associated with symptom reduction, these claims are often juxtaposed with others cautioning against its use as a means of symptom relief. In the current research, we plan to examine the impact of exposure to marijuana and trauma cues on subsequent craving and stress in veterans with and without PTSD. Rates of PTSD in Veterans are particularly high compared to the civilian population, and prescriptions of medicinal marijuana are becoming much more common despite the lack of compelling evidence that marijuana has any medical benefits for these individuals. Given the impending legalization of marijuana, and the contrasting views of its efficacy, it is important to establish whether regular use of marijuana to treat symptoms of PTSD leads to trauma-induced cravings for marijuana, as using marijuana with the intention of treating PTSD may have the unintended consequence of predisposing that individual to the development of another disorder — a substance use disorder.
—
The Caring Campus: An intervention project (website)– Funded by Movember  [Co-Investigator]

Our overall goal is to engage male university students in developing and implementing health promotion activities to prevent substance misuse and the mental health problems and illnesses associated with these. In particular, the program will help male students self-manage the risk associated with substance misuse; reduce stigma attached to substance misuse and to mental health problems; and create a more supportive and "caring" campus environment. These goals will be addressed at three levels:
Individual level – Caring about the self: raising awareness, and preventing potential problems
Collective level – Caring for others: de-stigmatization, and increasing social responsibility
Community level – Creating a caring community, building a supportive and inclusive campus
—
Modifying the automatic approach bias toward gambling stimuli in problem gamblers: A novel intervention for changing excessive gambling behavior – Funded by the National Center for Responsible Gaming (NCRG)  [Principle Investigator]

Implicit cognitions (automatic aspects of cognition that are outside an individual's awareness; DeHower, 2006) have been shown to play an important role in substance addictions (Wiers & Stacy, 2006), but have been rarely studied in relation to behavioral addictions such as problem gambling. Repeated exposure to addictive substances can lead to an implicit 'approach-bias' – the automatic tendency to approach rather that avoid substance-related stimuli. Despite emerging work on the utility of implicit association type tasks in the gambling research area, no studies to date have examined gambling – approach/avoidance associations. The alcohol Approach Avoidance Task (Wiers et al., 2009, 2010, 2011) appears readily adaptable for studying the role of implicit processes in a variety of addictive behaviors. In our first of two studies we hope to validate a gambling Approach Avoidance Task by evaluating its cross sectional and longitudinal correlates. In our second study we will test whether problem gamblers' automatic action-tendencies to approach gambling can be altered using a cognitive bias modification procedure, and whether this will actually impact gambling behaviour. Together the proposed set of studies represents an innovative bridge between cognitive science, clinical psychology, and experimental psychopathology. The studies make use of state of the art cognitive psychology methods in terms of using computerized reaction time tasks for assessing implicit cognition. The studies also address the potential causes of a costly and prevalent form of addiction in both Europe and North America – namely problem gambling. Most importantly, there is strong potential for the set of studies to lead to the development of novel stand-alone or supplemental treatments for problem gambling to increase the armamentarium of treatment options available for problem gamblers.
—
Sex Differences in Cross-Priming for Gambling among Stimulant Using Individuals – Funded by the Nova Scotia Health Research Foundation (website)  [Principle Investigator]

A growing body of evidence suggests that male and female pathological gamblers (PGs) differ across numerous aspects of gambling behaviour. However, little research has focused on potential factors contributing to sex-related differences in PG. Neuroimaging studies indicate that dopamine (DA) may mediate the reinforcing effects of gambling. Drug challenge studies have revealed that receipt of one drug (e.g., cocaine) can increase motivation for a different drug (e.g., amphetamine). Recent studies suggest that DA increasing drugs can also 'cross-prime' gambling in PGs. In addition, women and men also differ in responses to DA priming drugs. The objective of this study is to further clarify neurobiological processes underlying PG. Cross-priming will be examined in stimulant users and healthy controls. The study will assess the ability of an electronic gambling machine to cross-prime motivation for stimulants in groups of participants who regularly use stimulant drug(s) (e.g., Cocaine, Crack, Amphetamine, Adderall, Methamphetamine, Crystal, Methylphenidate, Ritalin) but have no gambling-related disorder. Moderating effects of sex will then be examined. Cross-priming will be assessed with self-reported desire for substances and gambling as well as with computer-based tasks that capture implicit reactivity to the gambling prime. It is predicted that male stimulant users will exhibit greater cross-priming than female stimulant users.
—
Does transdiagnostic treatment work as well as traditional disorder-specific treatment in reducing mental health symptoms?  Funded by Canadian Institutes of Health Research  [Co-Investigator]
Many Canadians with a mental health problem struggle to access effective services. This may be because they live in a rural area with limited services and no clinicians who treat their condition, or because they live with symptoms of more than one disorder (e.g., social anxiety and depression) and our current methods of treating co-occurring conditions (e.g., undergoing two treatments) are not always effective or practical. Such situations have promoted interest in transdiagnostic treatment. This treatment targets underlying risk factors shared by several disorders. By treating shared risk factors, people might get relief from symptoms of multiple disorders. Similarly, one clinician can be trained to deliver treatment to people with a range of disorders. One risk factor that might be targeted in this type of treatment is anxiety sensitivity. Anxiety sensitivity is a fear of arousal-related sensations (e.g., rapid heart rate, breathlessness) that arises from beliefs that these sensations will have serious physical, psychological, or social consequences (e.g., heart attack). Research has shown that high anxiety sensitivity is linked to several mental health problems including anxiety, depression, and substance abuse. We know that a type of psychotherapy called cognitive behavioural therapy (CBT) reduces anxiety sensitivity. Thus, the purpose of the proposed study is to compare the effects of CBT for anxiety sensitivity to disorder-specific CBT (e.g., CBT for social anxiety) on mental health and addiction symptoms for people with high anxiety sensitivity. Knowledge obtained from this research will help us understand if treatment targeted at anxiety sensitivity can reduce symptoms of multiple disorders within an individual to the same or a better degree than traditional disorder-specific treatment in the short- and long-term. If effective, this transdiagnostic treatment could increase access to a simple, effective, practical, and cost-effective treatment for Canadians.